My photo article on world-renowned Ranthambore national park in New Delhi's National Newspaper's editorial page.
Ranthambore is acclaimed globally for its ancient fort and the National Park/Tiger Reserve. The sturdiest Ranthambore fort has been declared as a UNESCO world heritage site in 2013. The Ranthambore Tiger Reserve or extensive dry deciduous Abhay Forest is spread over an area of about 1700 sq. km which includes Ranthambore National Park and its nearby sanctuaries like the Sawai Mansingh Sanctuary, Kaila Devi Sanctuary along with many villages in and around the area. About 1,113 sq. km area of the Tiger Reserve is preserved as the core area and 298 sq. km is notified as a buffer zone. The core is noted as a critical area and buffer is a peripheral area to foster co-existence with local people while ensuring the protection of the National Park. Among this total area, only 18% has been kept for tourism purposes and the Tiger Reserve is divided into 10 zones.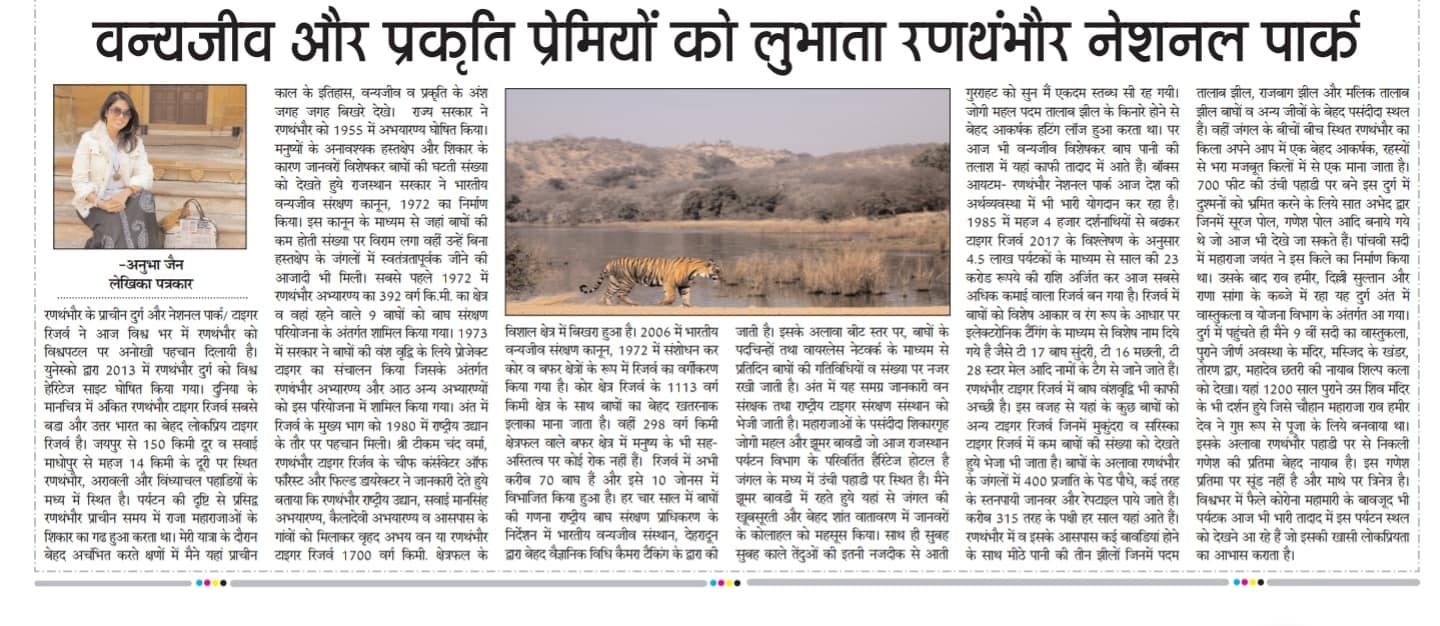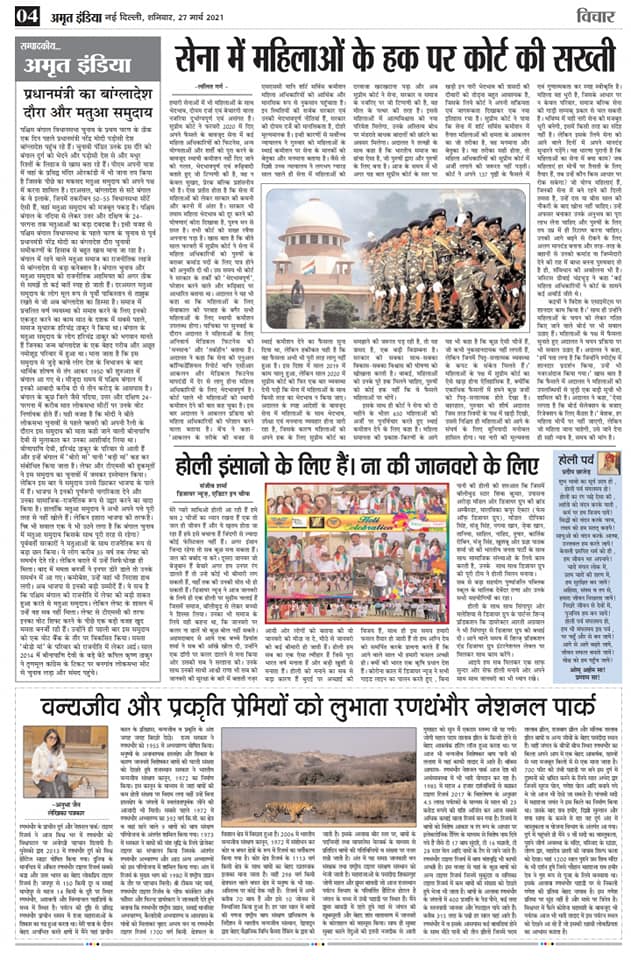 Following the prescribed CORONA-19 guidelines, the tiger reserve restarted on July 1st, 2020 after lockdown from March to June 2020 with sanitized safari vehicles, maintaining social distancing, temperature check, and with a limited number of people in a tour. Again, after the regular monsoon break from July to September 2020 the Ranthambore National Park eventually geared up and reopened in its full swing from October 2020 last year.
Ranthambore Tiger Reserve contributes heavily to the economy also. At one time the tourist influx was only about 4,000 visitors in 1985, and catapulted to over 4.5 lakhs by 2017, resulting in revenues of almost Rs 23 crore annually, which made it the highest-earning wildlife park in India.
However, as per Ranthambore Tiger Reserve official data, today in 2020-21 with a total number of 1,93,092 local and foreign tourists as compared to 2019-20 with a good number of about 4 lakh 35k visitors visited in the reserve show that this tourist hotspot is also impacted massively by the pandemic.
From April 2019 to March 2020 total number of foreign tourists visited was 142953. But the constantly changing government's pandemic guidelines have impacted wildlife tourism heavily with the arrival of foreign tourists most uncertain as tourist visas were not being issued, and the total revenues are no longer at their peak. As a higher decline in April 2020 to March 2021, the number of foreign tourists who visited the reserve was merely 591 in number.
Similarly, the local tourist graph too plunged from 292433 tourists in 2019-20 to 192501 tourists visited between April 2020 to March 2021.
As a side effect of the pandemic, many people dependent on wildlife tourism became jobless. Guides and local safari vehicle drivers moved back to their villages to sustain their living. And those who did not have farmlands have undergone a great hardship. The rise in poaching has also been seen during the pandemic as people turned to wildlife for earning money and feeding their families. 
When I asked if there are any deaths of wild animals due to pandemic, Tikam Chand Verma, Ranthambore Tiger Reserve's Chief Conservator of Forest & the Field Director informed me that no such cases have been seen so far. Animals are not affected due to covid. In fact, poaching is more hazardous than any pandemic for animals, he emphasized. Verma further said that presently there are about 70 tigers in the Reserve which is six more than 64 (included 45 adult tigers and 19 cubs) in the year 2017.
 To avoid any kind of refunds, the State Forest Department has issued an order which has come as a big relief to tourists who did advance booking for safaris online across Rajasthan's national parks between 18 March and 30 June 2020, as they can now avail the safari service till 30th June 2022. Opening the national park after a big gap or halt this year has been a sigh of relief for everyone, especially, gypsy drivers and tour guides. I can say in the end that tourists who all are visiting the national park are coming here with the same enthusiasm as pre-corona days, but with masks on the faces this time.
(Visited 102 times, 1 visits today)