Micro calligraphy painting on rice grains is an old Indian tradition. During the olden days, this craft was often used by kings and emperors to send secret messages. In this vein, Niru Chhabra is a well-known face among art lovers and connoisseurs. She has made a niche for herself in the field of miniature calligraphy. Niru has written an exceptional 108 letters of the alphabet on one single rice grain with an ordinary painting brush. On the occasion of 151st birth anniversary of Mahatma Gandhi, Niru has designed 6 different art pieces on 550 rice grains showcasing Bapu's famous sayings like Ahinsa, Satyagrah, vital happenings from the period of 1869 to 1900.  She has written on more than 75000 rice grains so far. Writing with an ordinary brush makes Niru different from other artists who practice micro calligraphy with fine pointed pens or pencils. The skill needs immense concentration and dedication.
Niru had presented the beautifully designed rice grain art pieces to the former President Shri Shankar Dayal Sharma and the Prime Minister Narendra Modi too. Her outstanding portrayal of designs and calligraphy on the grain is always based on historical, religious, or any patriotic theme. She crafted her art pieces in various languages, viz., Hindi, Urdu, Prakrit and Sanskrit on different interesting themes like India is a Great Nation, National Anthem, Gayatri Mantra, Terrorism, Vandematram, Jain's famous Bhaktambar Starot and Namokar Mantra, Geeta Saar, etc.
Just with a diploma in Drawing and Painting and without much professional training, Niru has transformed her hobby of painting into such extraordinary skill.
In a candid interview with me she reminisced, "It has been a long journey when I started all this in 1984. For any art-piece I work for 8 to 10 hours every day. It is a painstaking task writing on a tiny grain. I took almost four months to write 72 letters on a rice grain which I gifted to the then Prime Minister of India Smt. Indira Gandhi in 1984." When asked about any hurdles in practicing this art form, she laughed and said, "The only obstacle is the size of the art piece which is so small and always requires a magnifying glass to see the content written on it."
Niru had presented a rice grain with "Long Live Indo-US friendship" written on it to President Bill Clinton, when he visited Jaipur on 23 March 2000. Later, on 22 May 2000, Niru received Clinton's hand written note of appreciation for her craft. Niru showed her craftsmanship to President of Kazakhstan Nursultan Nazarbayeva as well. She presented the rice grain art piece to the President Nazarbayeva with Inspirational messages written on it –Live and Let Live: Lord Mahaveer; Stop Terrorism.  After seeing such marvelous skill, the President felt so amazed that he took out his beautiful pocket watch from his attire and gifted it to Niru.
Her tremendous art work has been admired by many national and international dignitaries such as His Excellency Prince Charles, Prime Ministers of India Late Rajeev Gandhi, Former Presidents of India Dr. A.P.J. Abdul Kalam, Late Vice President of India Shri Bhairon Singh Shekhawat, Former Prime Minister Dr. Manmohan Singh, Jain Aacharya  Shri Vidyanandji Muni Maharaj, BJP Leader & Former Prime Minister Shri Atal Bihari Vajpayee, and Music Director Naushad Ali, and many more. She participated in the International Trade Fair in Germany in 2012 and also conferred with many national and state level awards.
Exclusive Article on micro calligraphy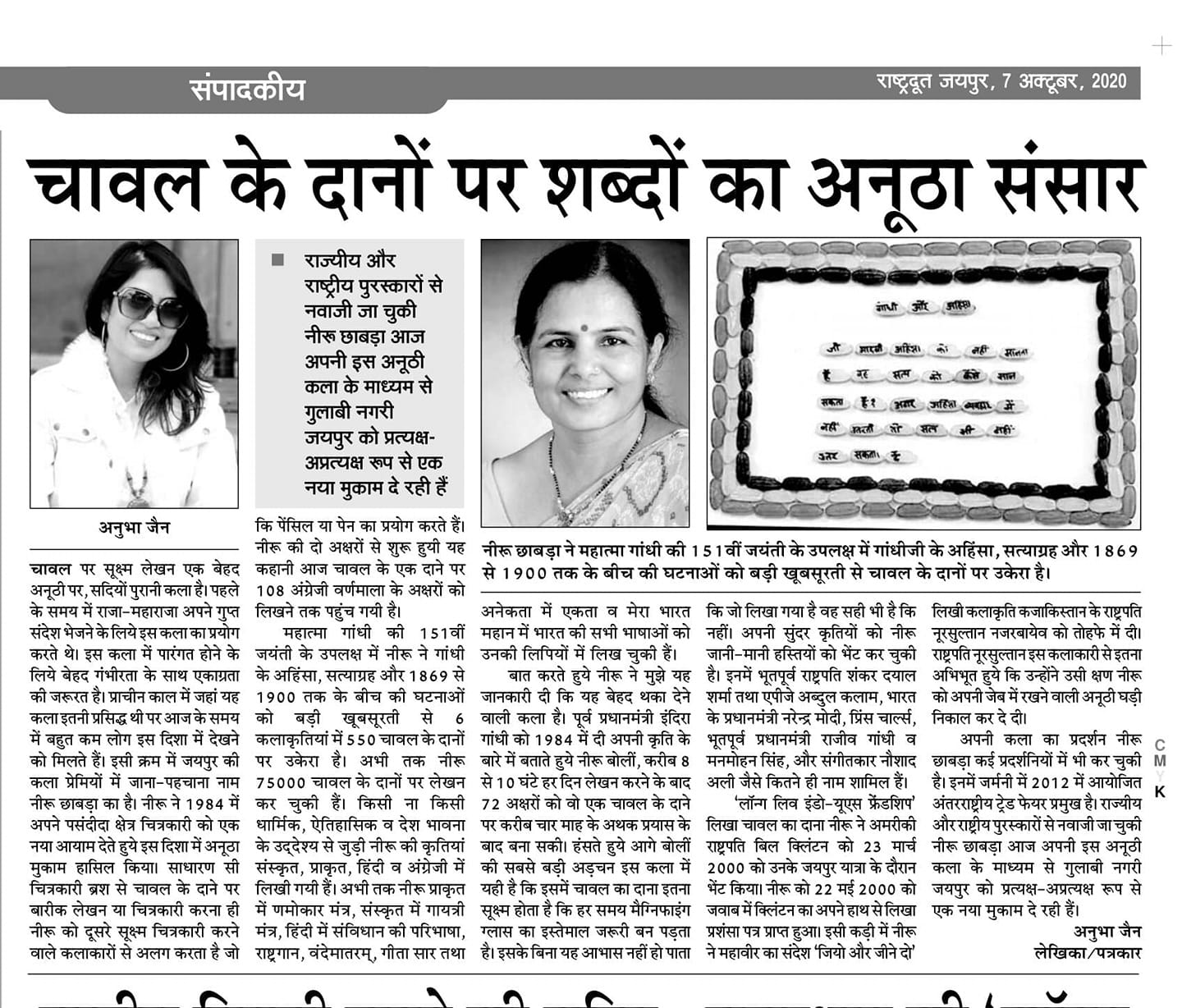 (Visited 183 times, 2 visits today)